Furnace Description
Essentially designed to exploit the advantages of gas melting and electric holding, the Dual Energy Basin Tilting Furnace can operate with both gas and electric energy inputs automatically with respect to temperature. Alternatively, the furnace will operate solely on gas or electricity according to the source selected. Should gas heating fail, electric heating is automatical- ly selected. The combination of radiant heat transfer and the use of advanced insulating materials provides a melting and holding furnace of exceptional efficiency and comfortable work- ing conditions. Protected by Patents US5835525, EP0765460, CA2192065, JP3649446.
LIP AXIS POURING
Lip axis pouring is achieved by tilting the furnace by means of twin totally enclosed hydraulic rams. The pouring rate is easily controlled, allowing a transfer ladle to be kept in one position. For convenience, when pouring accuracy is not required, a bolt- on spout extension is available.
HEATER ASSEMBLIES
Twelve refractory, radiant heater panels are arranged around the crucible and extend to the full depth of the furnace chamber. The formation consists of six gas and six electric radiant panels. Uniquely designed panels efficiently convert gas energy to radiant energy when this heat source is selected. The self-supporting design allows ease of removal. Multi-strand element tails and cool stud terminals enable electric heater changes to be made in less than 10 minutes without removing the crucible.
PERFORMANCE DATA

KEY FEATURES :-

GAS BURNER
The furnace is equipped with an advanced self-contained nozzle mix gas burner. This reliable on/off industrial grade burner utilises an ultra-violet detector to detect and monitor the quality of combustion. Fully modulating burner for proportional gas heating.
CONTROL PANEL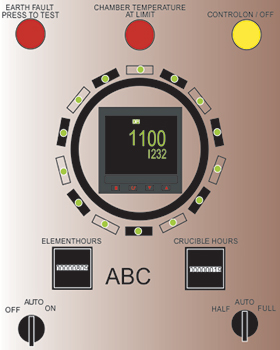 Circuit breaker for isolation and protection
Earth leakage detection for operational safety and personnel protection
Crucible and heater hour meters
Programmable time clock switching
Mimic display for rapid diagnostics
The element panels are depicted on a diagram and ultra bright LEDs are lit when any electric panel is drawing the required current. Metal temperature control may be either from an adjustable or fixed pyrometer.

The programmable controller will maintain the metal temperature within very close limits by automatic adjustment to heat input, whether melting or holding. The digital display shows both the required and current metal temperature.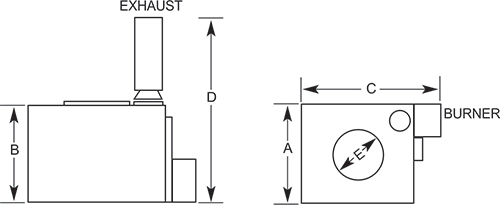 OUTPUT LIMITED
THERMOCOUPLE FAILURE PROTECTION (electric hold)
If the thermocouple sensor fails, this feature provides a p rogrammed level of output power. Typically set to 10—%, the time proportioning power control provides sufficient heat output power to maintain an aluminium charge within an acceptable temperature range.
POLICEMAN CONTROL
The furnace is equipped with a "policeman" control. This feature is designed to prevent overheating of the furnace refractories and radiant panels, thus avoiding reduction of their
lifespan.
PYROMETRY
A variety of metal temperature pyrometry can be specified. This includes floating or fixed immersion types and thermocouples housed within the crucible for holding applications
.
OPTIONS AVAILABLE
Spilt metal detection, low metal temperature alarm, in range indicating beacons, thryistor power control, metal temperature overshoot control, kWh meter.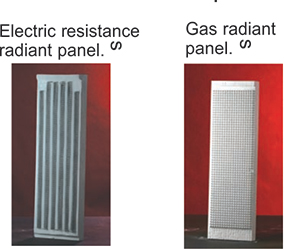 SPECIFICATIONS NOTE: Opposite hand available. *increased furnace height.