Furnace Description
The type HE Furnace is constructed using the most efficient low thermal mass materials for the lining and provides the maximum economy in energy cost.
The superb insulation allows for excellent melting performance at high power efficiencies, consistent with long element panel life.
Radiation losses are minimised by use of a well insulated swing aside cover that can be sealed when no baling out is needed.
Heater Assemblies
Twelve refractory heater panels are arranged around the crucible and extend to the full depth of the furnace chamber. Typical power loadings of only 3-4 watts/sq.cm ensure long life. whilst the self-supporting design facilitates ease of removal. multistrand element tails and cool stud terminals enable element changes to be made in less than 10 minutes without removing the crucible.
Control Panel
The control panel provides:
Circuit breaker for isolation and protection
Earth leakage detection for operational safety
Crucible and heater hour meters
Time clock swithching. The furnace elements are depicted on a mimic diagram and ultra bright LEDs. are lit when any panel is drawing the required current
Metal temperature control may be eighter from floating or fixed pyrometers or one housed within the crucible.
The programmable Controller will maintain the metal temperature within very close limits by automatic adjustment to heat input, whether melting or holding.
The digital display shows both the required temperature and current metal temperature.
Options
Details of optional extras available and furnace variants, ie:
Larger capacity, low height furnaces for holding applications
Electronic kilowatt hour meters for kWh totalising or with energy management output and direct kW reading.
Thyristor control for contactless switching and potential use of energy management systems for multiple furnace installations
conforms to the latest compatibility standards
Key Features
Improved Temperature Control
Temperature scheduling of control terms provides maximum accuracy of metal temperature whether melting from cold or maintaining.
Temperature Depression
This energy conservation feature enables a lower holding temperature to be automatically selected during periods of ' non use'. The controller contains a real-time/date clock, which can be programmed to select reduced temperature and to return to operation temperature when required. Similarly, the real-time clock can be programmed to start up and shut down the furnace at preset times and dates.
Enhanced Power Management
This feature, when selected by the panel mounted switch, reduces output power by 50% at a preset temperature below the normal operating value. output power is therefore limited to half power during holding should the temperature fall outside an acceptable limited due, for instance, to cold metal addition full power is re-established to provide rapid recovery. Half and full power switch positions are also provided.
Output Limited Thermocouple Failure Protection
if the thermocouple sensor fails, this feature provides a programmed level of output power control. Typically set to 10% the time proportioning power control provides sufficient output power to maintain an aluminium charge within an acceptable temperature range.
Improved Top Cover Insulation
The addition of insulation with exceptional insulation properties to the furnace reduces surface temperature, thereby improving working conditions, heat loss safety.
Standards
The Morgan Electric Resistance Bale Out Furnace Type He MkIV has been designed and manufactured in accordance with the relevant national & international Standard.
Range
The Morgan Electric Resistance Bale Out Furnace Type HE MkIV is available in the size range 85 kg-1135kg aluminium. high temperature versions available up to 1050 c capacities 260 Kg.-1400 Kg brass. other crucible patterns than those shown in the performance table are available to provide the capacity span
Indicated for each size reference.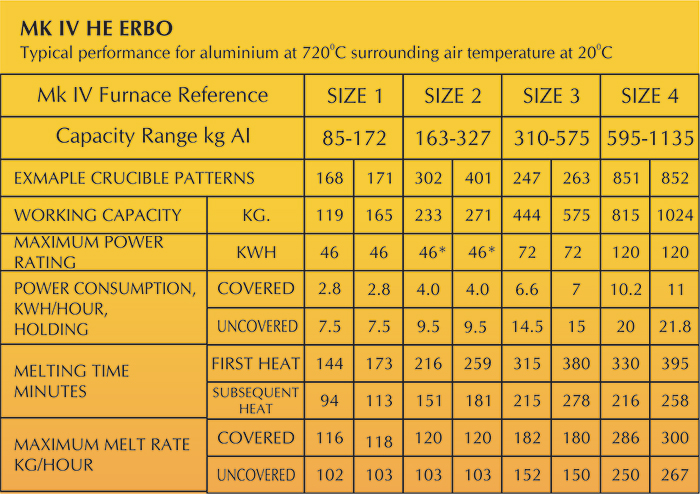 zinc and Brass melting data available on request
*Also available at 54Kw

Specifications
Crucibles for Bale Out furnaces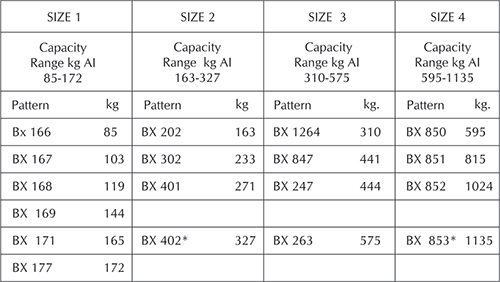 *Increased furnace height