Furnace Description
The ERBT MK IV offers rugged construction combining a heavy gauge carbon steel outer shell and a high insulating lining package. The lining package is a multi component insulating system that includes micr opor ous insulation . This material has extr emely low thermal conductivity and has the effect of minimising heat transfer through the furnace walls. The design and construction of the ERBT MK IV allows excellent melting per formances to be achieved at high power efficiencies from lightly loaded elements. The ERBT MK IV comes with a well insulated swing aside cover to reduce radiation losses fr om the surface of molten metal. Lip axis pouring allows easy loading of transfer equipment such as a Morgan HE Ladle. Hydraulic rams allow the pouring rate to be easily controlled.
Radiation losses are minimised by use of a well insulated swing aside cover that can be sealed when no baling out is needed.
Heater Assemblies
The melting system for the ERBT MK IV consists of 12 each Morgan ER Panels arranged circular pattern to provide even thermal transfer to the cr ucible wall. Mor gan ER Panels are made from top quality element wir e on a high alumina substrate. Each panel extends the full depth of the furnace chamber and is self supporting. A ledge is provided at the top of the panel to protect the element during crucible changing and to allow for easy replacement.
BENEFITS
Low Energy Costs
Good Metal Temperature Control
Very Low Casing Temperature
Low Noise Level
Low Holding Costs
Simple Maintenance

PERFORMANCE DATA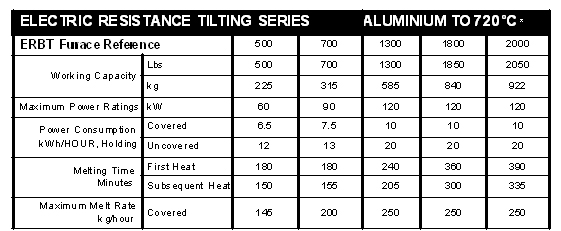 Above data based on optimum foundry conditions.  For normal foundry operations a performance of 90% of these ratings is typical.


KEY FEATURES
CONTROL PANEL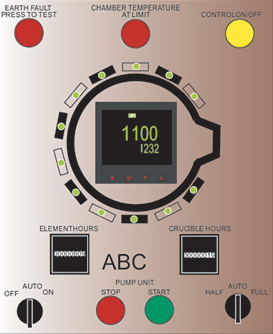 Circuit breaker for isolation and protection
Earth leakage detection for operational safety and personnel protection
Continuous individual element monitoring
Chamber temperature control for element protection and regulation of power
Metal temperature control by pyrometer and digital (proportional integral derivative) controller
Furnace is depicted on a mimic diagram on the control cabinet. An LED illuminates when the respective panel is drawing the required current. The LEDs are of the ultra bright green type housed in chromed lensed holders to give optimum intensity.



TEMPERATURE DEPRESSION
This energy conservation feature enables a lower holding temperature to be automatically selected during periods of non use. A dedicated real-time/date clock can be programmed to select reduced temperature and to return to operational temperature when required. Similarly, the real-time clock can be programmed to start up and shut down the furnace at preset times and dates.

SAFETY STANDARDS
The electrical specification is to the highest available safety standards and includes earth leakage protection using residual current circuit breakers with 30mA sensitivity conforming with BSS4293. It is CE marked and conforms to EN746/1 and is CSA approved.

OUTPUT LIMITED THERMOCOUPLE FAILURE PROTECTION
If the thermocouple sensor fails, this feature provides a programmed level of output power. Typically set to 10–30%, the time proportioning power control provides sufficient heat output power to maintain an aluminium charge within an acceptable temperature range.

IMPROVED TOP COVER INSULATION
The addition of a microporous insulation with exceptional insulating properties to the furnace cover reduces surface temperature, thereby improving working conditions, heat loss and safety.

POLICEMAN CONTROL
The furnace is equipped with a "policeman" control. This feature is designed to prevent overheating of the furnace refractories and radiant panels, thus avoiding reduction of their lifespan.

PYROMETRY
A variety of metal temperature pyrometer can be specified. This includes floating or fixed immersion types and thermocouples housed within the crucible for holding applications.

OPTIONS AVAILABLE
Spilt metal detection, low metal temperature alarm, in-range indicating beacons, thyristor power control, metal temperature overshoot control and kilowatt hour meter.



SPECIFICATIONS