Furnace Description
The steel furnace casing is lined with MorganMMS radiant panels backed by premium grade insulation.
LIP AXIS POURING
Lip axis pouring is achieved by tilting the furnace by means of twin hydraulic rams. The pouring rate is easily controlled, allowing a transfer ladle to be kept in one position.
SIZE RANGE
213—1496 kg Aluminium
CONTROL SYSTEM
Furnaces with automatic, fully-modulating burners are supplied with a fixed pyrometer assembly, which is connected to the control system, to provide metal temperature control. Other control systems are also available.
INSTALLATION
The furnace is supplied assembled and only requires bolting down on a suitable concrete floor and connection to fuel and electricity sources. For zinc and aluminium melting, MKV Furnaces up to BT700 Furnaces can be fitted with a spilt metal tray. Otherwise, spilt-metal pits should be provided.
PERFORMANCE DATA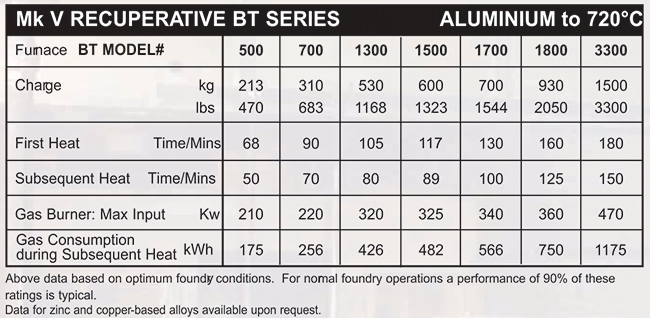 KEY FEATURES

BURNER EQUIPMENT

Fully-Modulating Gas Burners: high velocity, low NOX, pre heated air, nozzle mix, with inverter fan control
Exhaust recuperator
Burner Tilts with Furnace
Radiant Panels
Crucible and Burner Hour Meters
Seven Day Time Clock
Proportional (PID) Control
FURNACE LINING
For aluminium and zinc alloy applications : lined with a high alumina, gas radiant panel hot face, backed with a highly
efficient insulation. The system is particularly beneficial in gasfired applications, providing an effective radiating surface from the non-luminous productions of combustion.

BENEFITS

Very Low Energy Costs
Good Metal Temperature Control
Very Low Casing Temperature
Low Noise Level
Low Holding Costs
Simple Maintenance

POLICEMAN CONTROL

The furnace is equipped with a "policeman" control. This feature is designed to prevent overheating of the furnace refractories and radiant panels, thus avoiding reduction of their lifespan.
PYROMETRY
A variety of metal temperature pyrometry can be specified. This includes adjustable or fixed immersion types and thermocouples housed within the crucible for holding applications.
OPTIONS AVAILABLE
Spilt metal detection, low metal temperature alarm, in-range indicating beacons and metal temperature overshoot control.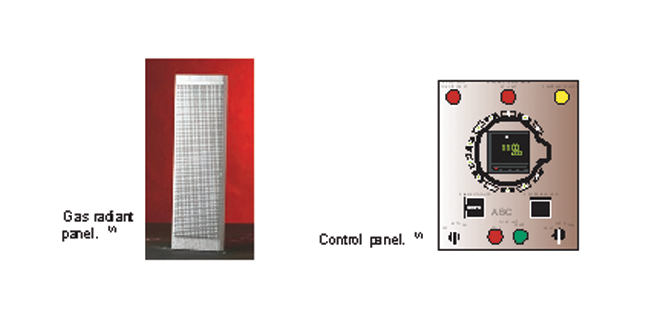 SPECIFICATIONS